Product Information
Combine your favourite material with matching colours for the frame and embroidery. With bold contrasts or restrained beauty. You can do it all with Adartne from Leolux: youthful and colourful design for an austere interior, as expressive as you want it to be.
Features:
Armchair, 2- and 2.5-seat sofa or footstool (2 sizes).
Frame lacquered or in polished stainless steel.
You gear the "Dashes" embroidery to the lacquer colour. 
Specifications
Adartne - armchair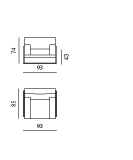 Dimensions (cm)
Width: 93
Depth: 85
Height: 74
Seat width: 50
Seat depth: 55
Seat height: 43
Back height: 40
Arm height: 15