Product Information
Soft elegance
The forms of the Mayon sofa were the starting point, but Mayuro is more compact in its dimensions. The sprung arms and backs provide for absolutely superb comfort. The lovely upholstery accents, the loose cushions and specially designed feet make Mayuro an enrichment for any contemporary interior.
Features
Available as compact armchair with feet in aluminium (option: lacquer or epoxy).
Extra comfort options: seat height -2 cm or -4 cm.
Specifications
Body: Solid beech, sheet material and beech laminate
Springing, seat: Hard steel springs
Springing, back: Elastic webbing
Springing arm: Elastic webbing
Foot:ØPolished aluminium
Option (extra charge): all Leolux epoxy and lacquer colours (except Brush, Metallicbrush & Style)
Foot caps: Plastic with felt, black
Embroidery: This model is accentuated all round with a large saddle-stitch.
Filling:
Top side of seat: 12 cm HR foam 50 kg/m³, covering Leoskin
Front side of seat: 2 cm Leoskin
Front side of back: 8 cm HR foam 30 kg/m³, covering Leoskin
Rear side of back: 2 cm HR foam 20kg/m³, covering Leoskin
Top side of arm: 2 cm polyether 30 kg/m³, covering Leoskin
Inside of arm: 2 cm polyether 30 kg/m³, covering Leoskin
Outside of arm: 2 cm HR foam 30 kg/m³, covering Leoskin

Size options: Seat height - 2 cm / -4 cm
NB: Because of the loose appearance, small wrinkles will already be present on delivery of the armchair.
Comfort options: Lower
Mayuro - armchair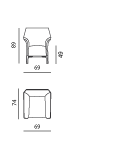 Dimensions (cm)
Width: 73
Depth: 74
Height: 89
Seat width: 48
Seat depth: 50
Seat height: 49
Back height: 53
Arm height: 20

Mayuro - footstool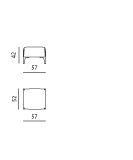 Dimensions (cm)
Width: 57
Depth: 52
Height: 42