Product Information
For all those who find after-dinner conversation just as important as a good meal, there is Tamarinde. A slender dining room chair with inviting extended arms and an adjustable back which you bring into a relaxed position after the dessert. After a fine meal, a good conversation can last hours with Tamarinde from Leolux.
Features:
Armchair with castor wheels (black) or aluminium feet (option: lacquer or epoxy).
Tamarinde's open front makes it easier to stand up.
Comfort option: seat depth -2 cm and seamlessly adjustable back (option: with pull-loop left or right).
Specifications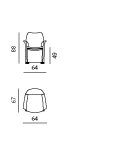 Dimensions (cm)
Width: 64
Depth: 67
Height: 88
Seat width: 43
Seat depth: 47
Seat height: 49
Back height: 46
Arm height: 17
BodyÂ
Sheet material
Body, seatÂ
Beech laminate
Body, backÂ
Beech laminate and sheet material
Body, armÂ
Steel and sheet material
Springing, seatÂ
Elastic webbing
Springing, backÂ
Freely sprung sheet material (laminate)
Mechanically adjustable backÂ
Gas spring, seamlessly adjustable. Operation with pull-loop.
WheelsÂ
Small castors with soft tread, colour black
FeetÂ
Aluminium polished, foot caps plastic, black
 Option (additional charge) all Leolux epoxy and lacquer colours except (metallic) Brush & Style
Embroidery / stitchingÂ
This model comes with saddle stitching.
FillingÂ
Top side seat: 6 cm HR foam, sg 50 kg/m3, covering Leoskin
Front side back: 5 cm HR foam, sg 30 kg/m3, covering Leoskin
Top side arm: 2 cm PU/HR shaped foam, sg 50 kg/m3, covering Leoskin
Inside arm: 2 cm PU/HR shaped foam, sg 50 kg/m3, covering Leoskin
Outside Body: 1 cm polyether, sg 20 kg/m3, covering Leoskin
Special featuresÂ
Slender armchair on castors or feet, available in Basic version or with adjustable back (Plus).
Size optionsÂ
Seat depth - 2 cm
Comfort optionsÂ
WHEELS / SEAT DEPTH SHORTER / ADJUSTABLE BACK