Beautifully in balance
A designer weighs up his ideas, seeks balance. His skill is to reflect the wishes and desires of the consumer in a balanced form.
Balanza by Axel Enthoven offers the balance by which you recognise a good design. With a slender frame, elegant aluminium legs and contemporary dimensions – from armchair to 3.5 seater. With generous, soft arm cushions providing support for your arm or head and a cushioned back for unrivalled comfort. Absolutely perfect.
Those who know immediately recognise that the inspiration for Balanza is derived from the successful Bora series from the 1980s. The basic qualities of comfort and hidden beauty were revisited by Enthoven and adapted to this age. The result was a series of sofas which may remind us of the Leolux "classic", but which also meet all expectations on their own account. Comfortable and beautiful, completely in balance.
Features:
Available as armchair (88 cm), 2 seater (158 cm), 2.5 seater (183 cm), 3 seater (208 cm), 3.5 seater (233 cm) and foot stool. Sofas and armchairs are available with a low or high back.

The back side of the back features ornamental point stitching. The high back is given added depth by a decorative seam on the front.

The aluminium legs are also available in lacquer.

All sofas have a seat and back cushion, each with a single middle seam.

Comfort options: seating height +2cm or -2cm, seating depth -2cm.

Cushions: "Standard" or "Firm".



Bora Balanza - armchair Low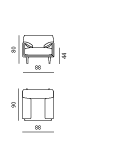 Dimensions (cm)
Width: 88
Depth: 90
Height: 80
Seat width: 40
Seat depth: 55
Seat height: 44
Back height: 44
Arm height: 19
Bora Balanza - sofa 2-seater Low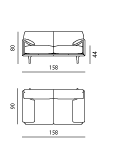 Dimensions (cm)
Width: 158
Depth: 90
Height: 80
Seat width: 100
Seat depth: 55
Seat height: 44
Back height: 44
Arm height: 19

Bora Balanza - sofa 2,5-seater Low
Dimensions (cm)
Width: 183
Depth: 90
Height: 80
Seat width: 125
Seat depth: 55
Seat height: 44
Back height: 44
Arm height: 19

Bora Balanza - sofa 3-seater Low
Dimensions (cm)
Width: 208
Depth: 90
Height: 80
Seat width: 150
Seat depth: 55
Seat height: 44
Back height: 44
Arm height: 19
Bora Balanza - sofa 3,5-seater Low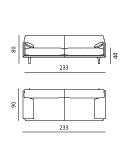 Dimensions (cm)
Width: 233
Depth: 90
Height: 80
Seat width: 175
Seat depth: 55
Seat height: 44
Back height: 44
Arm height: 19

Bora Balanza - footstool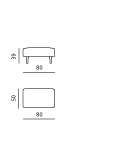 Dimensions (cm)
Width: 80
Depth: 50
Height: 39

Bora Balanza - Armchair High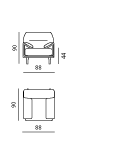 Dimensions (cm)
Width: 88
Depth: 90
Height: 90
Seat width: 40
Seat depth: 55
Seat height: 44
Back height: 55
Arm height: 19
Bora Balanza - sofa 2-seater High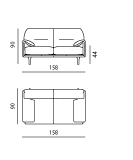 Dimensions (cm)
Width: 158
Depth: 90
Height: 90
Seat width: 100
Seat depth: 55
Seat height: 44
Back height: 55
Arm height: 19

Bora Balanza - sofa 2,5-seater High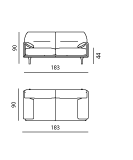 Dimensions (cm)
Width: 183
Depth: 90
Height: 90
Seat width: 125
Seat depth: 55
Seat height: 44
Back height: 55
Arm height: 19

Bora Balanza - sofa 3-seater High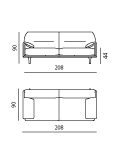 Dimensions (cm)
Width: 208
Depth: 90
Height: 90
Seat width: 150
Seat depth: 55
Seat height: 44
Back height: 55
Arm height: 19

Bora Balanza - sofa 3,5-seater High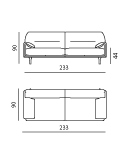 Dimensions (cm)
Width: 233
Depth: 90
Height: 90
Seat width: 175
Seat depth: 55
Seat height: 44
Back height: 55
Arm height: 19