Product Information
Clarity, modesty and sincere design
Designer Hanne Willmann has been working as an freelance designer since 2015. That same year she was proclaimed Design Talent of the Year and has since been making international fame. Her greatest strength: clarity, modesty and sincere design. These keywords unmistakeably describe the Enna model; a contemporary modular system that Hanne Willmann designed for Leolux.
With Enna you can use a wide range of sofas, divans and elements to create either generous or compact configurations.
The elegant metal frame firmly holding the cushions in its grip is a typical feature and can be finished in any colour you could wish for. The 'Bent' arm cushions folded around the arms form a playful alternative to the standard 'straight' arm cushions.
Features
The programme includes an armchair, a love-seat, sofas, divans and a wide range of elements. Matching headrests are also available.

The aluminium legs are always finished in powdercoating E2200 Nuit. Other colours are available as an option.
Besides the 'Bent' arm cushion, there's also a 'Straight' arm with a traditional design. Comfort options: seating height +2 cm, seating depth -2 cm.
Specifications
Enna - headrest L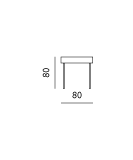 Dimensions (cm)
Width: 80
Depth: 16
Height: 77

Enna - endunit 1x 85 FL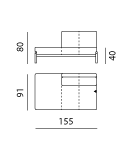 Dimensions (cm)
Width: 155
Depth: 91
Height: 80
Seat width: 145
Seat depth: 57
Seat height: 40
Back height: 40

Enna - corner element Large SBL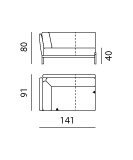 Dimensions (cm)
Width: 141
Depth: 91
Height: 80
Seat width: 141
Seat depth: 57
Seat height: 40
Back height: 40
Enna - endunit 1x 85 AR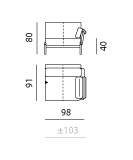 Dimensions (cm)
Width: 98
Depth: 91
Height: 80
Seat width: 75
Seat depth: 57
Seat height: 40
Back height: 40
Arm height: 23

Enna - Chaise Longue Medium 1x 85 AL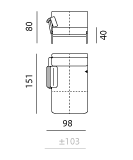 Dimensions (cm)
Width: 98
Depth: 125
Height: 80
Seat width: 75
Seat depth: 113
Seat height: 40
Back height: 40
Arm height: 23
Enna - endunit 1x 100 FL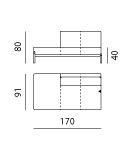 Dimensions (cm)
Width: 170
Depth: 85
Height: 80
Seat width: 160
Seat depth: 57
Seat height: 40
Back height: 40

Enna - headrest XL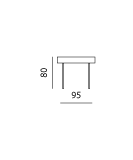 Dimensions (cm)
Width: 95
Depth: 16
Height: 77

Enna - endunit 1x 100 AR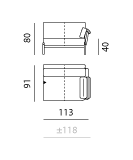 Dimensions (cm)
Width: 113
Depth: 91
Height: 80
Seat width: 90
Seat depth: 57
Seat height: 40
Back height: 40
Arm height: 23
Enna - footstool 85x55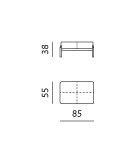 Dimensions (cm)
Width: 85
Depth: 55
Height: 38
Seat width: 85
Seat depth: 55
Seat height: 38

Enna - endunit 1x 85 AL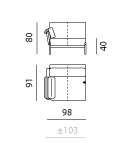 Dimensions (cm)
Width: 98
Depth: 91
Height: 80
Seat width: 75
Seat depth: 57
Seat height: 40
Back height: 40
Arm height: 23

Enna - Chaise Longue Medium 1x 100 AR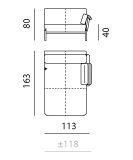 Dimensions (cm)
Width: 113
Depth: 151
Height: 80
Seat width: 90
Seat depth: 125
Seat height: 40
Back height: 40
Arm height: 23
Enna - armchair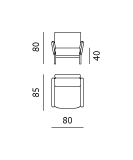 Dimensions (cm)
Width: 80
Depth: 85
Height: 80
Seat width: 55
Seat depth: 53
Seat height: 40
Back height: 40
Arm height: 23

Enna - sofa 2x 85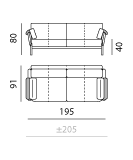 Dimensions (cm)
Width: 195
Depth: 91
Height: 80
Seat width: 150
Seat depth: 57
Seat height: 40
Back height: 40
Arm height: 23

Enna - endunit 1x 100 AL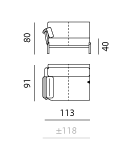 Dimensions (cm)
Width: 113
Depth: 91
Height: 80
Seat width: 90
Seat depth: 57
Seat height: 40
Back height: 40
Arm height: 23
Enna - footstool 85x85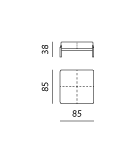 Dimensions (cm)
Width: 85
Depth: 85
Height: 38
Seat width: 85
Seat depth: 85
Seat height: 38

Enna - armcushion Straight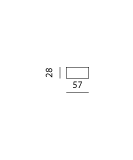 Dimensions (cm)
Width: 57
Depth: 13
Height: 28

Enna - endunit 2x 85 AR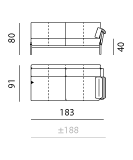 Dimensions (cm)
Width: 183
Depth: 91
Height: 80
Seat width: 160
Seat depth: 57
Seat height: 40
Back height: 40
Arm height: 23
Enna - Love Seat
Dimensions (cm)
Width: 125
Depth: 91
Height: 80
Seat width: 102
Seat depth: 57
Seat height: 40
Back height: 40
Arm height: 23

Enna - Chaise Longue Medium 1x 100 AL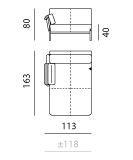 Dimensions (cm)
Width: 113
Depth: 151
Height: 80
Seat width: 90
Seat depth: 125
Seat height: 40
Back height: 40
Arm height: 23
Enna - sofa 2x 100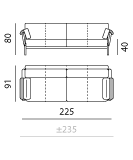 Dimensions (cm)
Width: 225
Depth: 91
Height: 80
Seat width: 180
Seat depth: 57
Seat height: 40
Back height: 40
Arm height: 23

Enna - endunit 2x 100 AR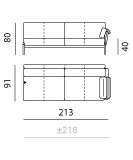 Dimensions (cm)
Width: 213
Depth: 91
Height: 80
Seat width: 190
Seat depth: 57
Seat height: 40
Back height: 40
Arm height: 23

Enna - intermediate el. 1x 85 no arms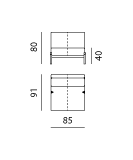 Dimensions (cm)
Height: 80
Back height: 40

Enna - armcushion Bent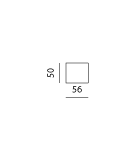 Dimensions (cm)
Width: 50
Depth: 10
Height: 56

Enna - endunit 2x 85 AL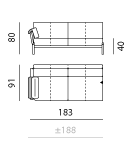 Dimensions (cm)
Width: 183
Depth: 91
Height: 80
Seat width: 160
Seat depth: 57
Seat height: 40
Back height: 40
Arm height: 23
Enna - corner element 90°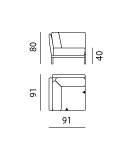 Dimensions (cm)
Width: 91
Depth: 91
Height: 80
Seat width: 57
Seat depth: 57
Seat height: 40
Back height: 40

Enna - long chair 1x 115 AR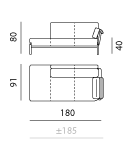 Dimensions (cm)
Width: 180
Depth: 91
Height: 80
Seat width: 160
Seat depth: 57
Seat height: 40
Back height: 40
Arm height: 23
Enna - sofa 2x 115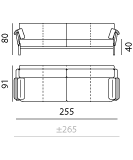 Dimensions (cm)
Width: 255
Depth: 91
Height: 80
Seat width: 210
Seat depth: 57
Seat height: 40
Back height: 40
Arm height: 23

Enna - endunit 2x 100 AL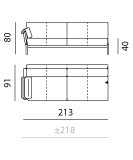 Dimensions (cm)
Width: 213
Depth: 91
Height: 80
Seat width: 190
Seat depth: 57
Seat height: 40
Back height: 40
Arm height: 23


Enna - intermediate el.1x 100 no arms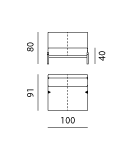 Dimensions (cm)
Height: 80
Back height: 40

Enna - headrest M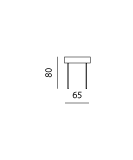 Dimensions (cm)
Width: 65
Depth: 16
Height: 77

Enna - endunit 1x 85 FR
Â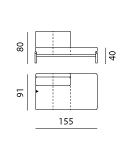 Dimensions (cm)
Width: 155
Depth: 91
Height: 80
Seat width: 145
Seat depth: 57
Seat height: 40
Back height: 40

Enna - corner element Large SBR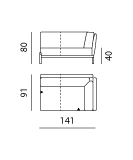 Dimensions (cm)
Width: 141
Depth: 91
Height: 80
Seat width: 141
Seat depth: 57
Seat height: 40
Back height: 40

Enna - long chair 1x 115 AL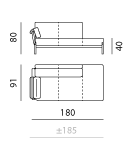 Dimensions (cm)
Width: 180
Depth: 91
Height: 80
Seat width: 160
Seat depth: 57
Seat height: 40
Back height: 40
Arm height: 23

Enna - Chaise Longue Medium 1x 85 AR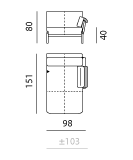 Dimensions (cm)
Width: 98
Depth: 125
Height: 80
Seat width: 75
Seat depth: 113
Seat height: 40
Back height: 40
Arm height: 23

Enna - endunit 1x 100 FR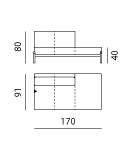 Dimensions (cm)
Width: 170
Depth: 85
Height: 80
Seat width: 160
Seat depth: 57
Seat height: 40
Back height: 40